Last month I introduced you to positional therapy, a way to address the muscle imbalances in the body that lead to pain.  After a session, I always recommend homework to help keep the balance we worked to create so that achy body parts and stubborn knots become a thing of the past. The good news is that unlike the hours of homework we may have endured every night in high school, this homework takes only a minute or two here and there throughout the day. Even better, some of the homework can be snuck into our yoga practices and that's what I'm going to share with you today — my favorite piece of homework to help you get rid of that glorious knot on the top of your shoulder.
You know the one.  It's right where the top of the shoulder runs into the base of the neck. Throughout the day you reach up to massage what feels like a goose egg lodged underneath the skin. So how do we get rid of it?  By marrying positional therapy homework with savasana!
Got a knot on the top of your shoulder? Try this savasana variation!
Click To Tweet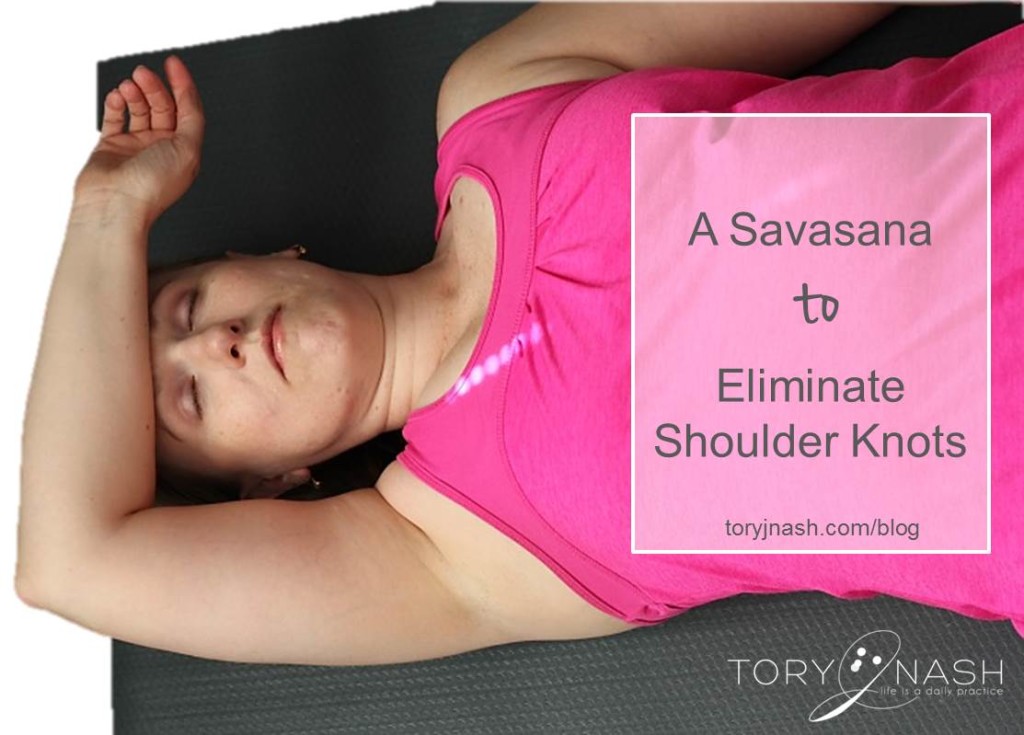 When you come to rest in savasana at the end of your yoga practice, allow the right forearm to rest on the forehead.  To make it even yummier, you can let the right ear tilt slightly towards the right shoulder.  Hold for 1 to 2 minutes.  I highly recommend using a timer here.  We often vastly underestimate how long a minute is in a pose, even the restorative ones! Resting with the arm in this position brings the two ends of the muscle closer to one another which allows the muscle to relax and unwind. Now switch and do the left side.  Finally, end your savasana with 1-2 minutes in the classical pose.  Arms are at a bit of an angle away from the sides of the body  with the palms facing the ceiling.  Let the shoulders rest heavily on the floor.
If you give this modified savasana a try, I'd love to hear what you think!  I don't think you'll miss those annoying shoulder knots one bit.
---
If you don't already receive my newsletter, sign up and I'll send you my free yoga video, Unwind the Work Day.  It will leave you feeling more energized and less achy at the end of the work day!